Another Bomb-Proof Modular Shelving System
30 Sunday Sep 2012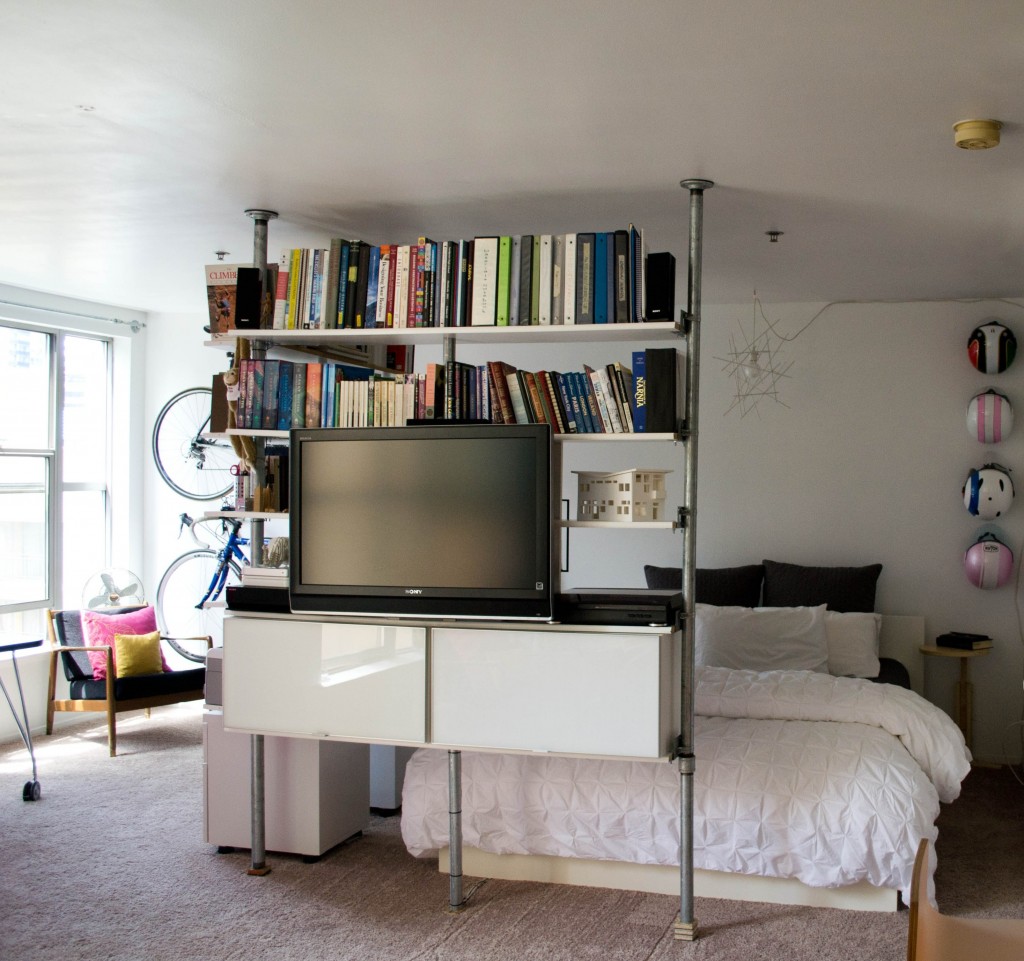 Hello Friends!  This week I will be fea­tur­ing a follow-up to my very first blog post — the sis­ter piece for the Bomb-Proof Mod­u­lar Shelv­ing Sys­tem.  In the four years since I first built this book­shelf, I've moved a few times, re-arranged a few more times, and well, can basi­cally build this damn thing in my sleep.
I have made a few improve­ments, and have now incor­po­rated my enter­tain­ment setup into the mod­u­lar sys­tem as well.  I thought this iter­a­tion of the Bomb-Proof Mod­u­lar Shelv­ing Sys­tem would be worth­while because I now have a pretty kick-ass room divider, and it is not so easy as you might think to wrap your head around how all these pieces fit together.  So with­out fur­ther adieu…
Tool Belt:
A Buddy
Screw Gun
Drill Bits
Cres­cent Wrench (and one for your friend)
Ham­mer
Level
Skil Saw
Clamps
Hack Saw with a blade to cut pipe
Foam Sand­ing Block (to sand down any rough edges on the

OSB

, not needed for Melamine)
Hand Plane
Required Avail­able Funds:
5 Shelf Ceil­ing Anchor (melamine): $650.00
5 Shelf Ceil­ing Anchor (osb): $580.00
Prices exclude cost of TV bracket
Shop­ping List:
3            1 ¼"x10' Gal­va­nized Plumb­ing Pipes (have these cut and rethreaded to about 1 1/2″ shorter than your ceil­ing height)
2            1  5/8"x8' Alu­minum Fence Post
3            1 ¼" Gal­va­nized Plumb­ing Flanges
10          1 ¼" Elec­tri­cal Con­duit Strap
10          Adjustable Wood Adapter Fence Clamp*
5           Cor­ner Wood Adapter Fence Brack­ets (see photo)*
2            4'x8'x3/4″

OSB

OR

 8- 8'x11 ¼"x3/4″ Melamine Shelves (aes­thetic is totally up to you – use

OSB

for a more indus­trial look, and melamine for a cleaner min­i­mal­ist look)
1            2'x4' Sheet Fin­ish Grade 18mm plywood
1            Sheet Masonite
1            Can of paint in the color of your choice — I chose white to match the melamine shelves and cabinets
2            15"x30"x12"

IKEA

Cab­i­nets — I chose white boxes to match the melamine shelves
2            15"x30"

IKEA

Cab­i­net Door Fronts
1           

TV

mount­ing bracket with artic­u­lat­ing arm (make sure it is rated for your

TV

 size)
2            6′ sticks of holed angle stock
1            Pack­age Pain in the Ass Melamine Iron-on Side Strip­ping (not needed for 

OSB

)
1           Roll of mass-loaded vinyl or a yoga mat you can spare
5            2″ bolts to fit the threads in the cor­ner fence brack­ets — I just tested the size at the store to be sure
1            Box #10 Pan-head Sheet Metal Screws
1            Box 1 1/4″ x1/4″ Car­riage bolts
1            Box Nuts to fit car­riage bolts
6          Lag Screws (or some other bomb proof method of anchor­ing these to the wall, this will depend on what your house is built of, just make sure the screws fit through the holes in the flanges)
5            2"x2"x3/4″ Wooden Blocks to sup­port the 1 1/4″ gal­va­nized pipe**
* Can be found in the alu­minum fenc­ing sec­tion of Home Depot
** I cut mine out of some scrap OSB – they hardly show, so they don't have to be fancy style.
Get Down to It:
Now that you've acquired all of the nec­es­sary goods to pro­duce this mod­ern won­der of shelv­ing excel­lence, it's time to get down to business.
Step 1:  Lay­out where you want your shelv­ing sys­tem to go, and what size you want your shelves to be.  As you've pur­chased 8′ melamine shelves, you are pretty flex­i­ble in siz­ing — how­ever, before you get too crazy, let me point out that you prob­a­bly do not want to exceed a 5'6 length on either branch.  Melamine shelves are pretty rad, but they are kind of wimpy when it comes to ten­sile strength — even if you put a mid­dle sup­port in like I did.
Once you deter­mine your lengths, cut one shelf down for each side of the book case and lay them out on the floor.  This is a very impor­tant step, because it will deter­mine where your sup­port pipes go.
Step 2: Get the pipes up.  Now that you have a rough idea of where you want this bad boy to go, you can start mark­ing out where the gal­va­nized flanges will go.  Remem­ber though, that on either end of the book­shelf you want the pipe to be cen­tered on the shelf, but in the cor­ner between the two shelves, you want the bracket to be in the rear cor­ner.  It helped me to put the bracket in there when I laid every­thing out.
No comes one of the hard­est parts — make sure your shelves are square in the room.  This was dif­fi­cult for me to do because the walls in my apart­ment were so out of square that I had to just eye ball it.  Another lit­tle snarl in the plan is that you can­not sim­ply align the pipes as one is cen­tered on the shelf and one is at the rear cor­ner.  Do the best you can and then mark where you need to drill holes to hold the flange to the ceiling.
Step 3: Ready the mass-loaded vinyl.  After installing this book­shelf a few times, I have learned that the yoga mat or mass-loaded vinyl will do won­ders for pro­tect­ing your ceil­ing from get­ting all scuffed up from the gal­va­nized flanges.  Trace the flanges onto your mate­r­ial of choice and cut out a few lay­ers.  Sand­wich these between the flange and ceil­ing for a scuff-free installation.
Step 4: Screw down the flange.  Now that you have your gas­kets cut out, and your holes strate­gi­cally marked, screw all 3 flanges to the ceil­ing.  You should only need 2 screws per flange, as the weight of the book­shelf will be held in place through ten­sion.  The pur­pose of the screws is sim­ply to hold the flange in place while you screw in the pipes, and off­set the chance of the flanges being able to move to and fro on the ceil­ing — highly unlikely, but we are being care­ful, right?
Step 5: Erect your pipes.  Sorry, you know I can't help an obvi­ous inu­endo… This is pretty self explana­tory — line up the threads and screw the pipes into the flanges.  How­ever, if you're a dumb-ass like me, you will prob­a­bly for­get to put the brack­ets onto the cen­ter pipe prior to screw­ing it in — so go ahead and do that now.
Step 6: Start installing the shelves.  It's just that sim­ple right?  Actu­ally no.  This is the most time con­sum­ing step of the entire process because you need to make sure your shelves are spaced cor­rectly, and all of the brack­ets are level with one another.  Save your­self some trou­ble and be sure that you have a space between two of your shelves that is tall enough for your cab­i­nets to fit between!  For more detail on this step, check out the pre­vi­ous post (steps 4–5).  How­ever, before you run away to the old post, let me note that with this shelv­ing sys­tem, I devel­oped a new way of attach­ing the shelves to the brack­ets that is much more stable.
Get your brack­ets tight­ened into roughly the cor­rect loca­tion and then set your shelves on them.  Mark the holes from the bracket onto the shelf and then drill out the shelves with a big enough bit to fit your car­riage bolts through the holes.  Once you have all of your holes drilled, sim­ply bolt the shelves onto the brack­ets as shown in the photo.  This works much bet­ter than the pre­vi­ous method of con­nect­ing the shelves to the brack­ets because it lim­its the amount of front to back wob­ble on each shelf — very impor­tant when one is bolt­ing a TV to the shelves…
Step 7: Assem­ble your IKEA cab­i­nets.  Now would be the time to assem­ble those cab­i­net boxes.  Fol­low the delight­fully pic­to­r­ial instruc­tions all the way up to the point of attach­ing the back­ing to the cab­i­net.  We will not be doing that as we will cre­ate our own backing.
Step 8: Don't for­get this step!  I did and it was a HUGE pain in the ass because I had to take every­thing apart later.  This step involves plac­ing the first struc­tural sup­ports for the TV mount­ing board.  You will need to cut down your angle stock so you have three pieces that are approx­i­mately as wide as your TV mount­ing board (the 2'x4' fin­ish grade ply­wood).  After cut­ting, we decided to spray paint the angle stock white so it would blend in with the shelves.  After you have your cut and painted angle stock, mark the holes on your shelf so you know where to drill for the three car­riage bolts.
This gets a lit­tle con­fus­ing to ver­bally explain, so I've drawn a lit­tle SketchUp model to illus­trate how all of this goes together, but for the pur­pose of being thor­ough, I will attempt to explain our lay­out as well.  We have essen­tially 3 shelves that are affected by the TV back­board as we put our cab­i­nets on the bot­tom level of our shelv­ing sys­tem.  As you can see in later steps, we have three pieces of angle stock attached to three dif­fer­ent shelves, spread­ing around the weight of the TV mount­ing board.
The step I for­got, and that you need to do now, was to put in the three bolts for the bot­tom most sup­port before installing the cab­i­nets.  As shown in the image from the model, you need to have bolts fac­ing upward through the shelf so that you can still slide the cab­i­nets in under­neath the bolt heads.  As for loca­tion, we cen­tered our angle stock because, as I men­tioned pre­vi­ously, we cen­tered our TV on the shelv­ing system.
Now grab your TV mount­ing board and align the bot­tom of the board to the bot­tom of the low­est shelf.  Mark where you need to drill the holes to attach the angle stock now, because you won't be able to after we put the masonite backer on the cabinets.
Step 9: Install the cab­i­nets.  Now is the time to take your cab­i­net boxes and slide them between your two cho­sen shelves.  You want to make sure the back of the cab­i­net box is flush to the back side of the shelf — if it pro­trudes at all, you won't be able to put on your piece of masonite cab­i­net backer.
Once your cab­i­nets are flush, you need to secure their loca­tion using some angle stock.  Cut two more pieces that will fit into the width of the cab­i­net — they don't have to go the entire width, but should give a good spread for the three attach­ment screws.  Go ahead and spray paint the angle stock if you want to (though these pieces will only show if you open the cab­i­nets, so not com­pletely necessary).
Attach the cab­i­nets to the shelves — I used my sheet metal screws and wash­ers for this step.  For each cab­i­net, screw three screws with wash­ers down through the top of the angle stock into the bot­tom of the cab­i­net box and three screws with wash­ers through the angle stock into the back of the shelf.  Once you get those tight and make sure the shelf run­ning across the top of the cab­i­nets is snugged down, your cab­i­nets will not be going any­where any­time soon.
Step 10: Install the masonite backer.  This step had me a lit­tle stumped for awhile, but luck­ily my hus­band is a con­nois­seur of antique hand planes so we were able to solve our conun­drum.  After we got both cab­i­nets installed, the ques­tion was how to get a sheet of masonite backer to fit our slightly less than per­fect shelf pro­file.  To do this, we cut down our masonite to slightly larger than the span between the two shelves that sand­wich the cab­i­nets.  Then we traced along the top of the top shelf and the bot­tom of the bot­tom shelf and cut it down.  This got us pretty close, so we painted the masonite white and got ready to install it.
As shown in the image for Step 9, we used sev­eral of our metal screws to attach the masonite to the back of the shelves.  Then came my husband's great joy when he was able to jus­tify cart­ing around sev­eral antique hand­planes for the last eight years and plan the top and bot­tom of the masonite to the exact size of the shelves.  After we touched up the newly planed edges of the masonite with some paint, the result was fantastic!
Step 11: Pre­pare the TV mount­ing board.  Since you already have the bolts for one of your TV mount­ing board brack­ets installed, it should be a piece of cake to do the other two.  In the same hor­i­zon­tal loca­tion on the other two shelves, drill your holes for the mount­ing brack­ets.  The only dif­fer­ence for the other two shelves is that the car­riage bolts will face down instead of up since there isn't a cab­i­net underneath.
Once you get your shelf holes drilled, go ahead and loosely fas­ten the brack­ets to the shelves so you can mark where you need to drill the holes in the mount­ing board for the upper two shelves.
A help­ful tip — Since you have already drilled the holes for the bot­tom shelf, go ahead and attach the mount­ing board to the low­est shelf.  This will ensure that your mount­ing board holes for the top two shelves are in the right place.
Now undo the brack­ets that you loosely fas­tened to the shelves, and use your car­riage bolts to attach the brack­ets to the mount­ing board as shown in the photo.
Step 12: Install the TV mount­ing board.  Since every­thing is all pre-drilled, this step is pretty sim­ple.  Just tighten the car­riage bolts for al three shelves!
Step 13: Install the TV bracket.  This step will be slightly dif­fer­ent because each TV bracket will have it's own set of instruc­tions for mount­ing.  Though I can offer two pieces of advice:
One — Mount the bracket to the back of the TV first and hold it in place so you know exactly where to drill the holes for the mount­ing hard­ware.  After all this, you want to make sure your TV is at the opti­mal height for both view­ing and over­all shelv­ing sys­tem aesthetics.
Two: Remem­ber to put your sup­port pipes back in before you mount the TV.  The entire weight of the TV is being trans­ferred down into each of the three shelves, so they will promptly turn into match­sticks (and your TV into a nice paper­weight) if you for­get the cen­ter supports!
Step 14: Go get a pint! If you have sur­vived all the way to Step 14, you have earned a pint (or a nice, um, glass of sparkling cider if you're not into that sort of thing).  I know that this project tested both my com­mit­ment to my idea, my abil­ity to think through prob­lems on my toes, and also my won­der­ful husband's com­mit­ment to go along with it when I say I have a fan­tas­tic idea, but it's just going to take a few hours on a Saturday…
This fan­tas­tic piece has been stand­ing strong in our apart­ment for 4 months now, and remains just as bomb-proof as the day it went up.  Not to men­tion all of our friends think we're design geniuses when they see it.
That's all (yes, all 2600 words of it) I have for this week.  I hope you enjoyed the results of this project as much as I do.  Thanks for read­ing and feel free to share, just please give me credit for my work when you do.  Cheers till next time!